1953-54 Chevy Steel Fuel Tank
From Tanks, Inc.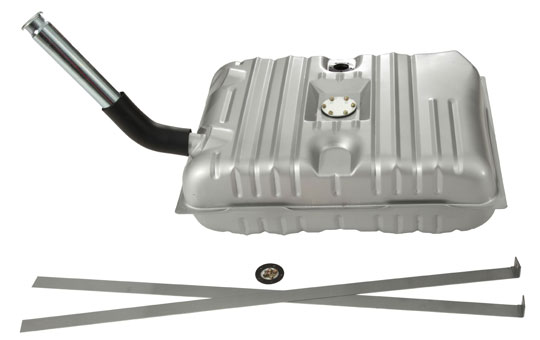 Product Details
Only Tank's, Inc. makes a Reproduction Tank with these Features:
53-CGX pictured Above
Large 3/8" NPT Internal Pickup Tube
53-CGX has a fuel drain plug
Internal Reservoir Tray - Absolute Necessity for Fuel Injection
Optional In-Tank Fuel Pumps - Bolt-in! No Cutting or Welding!
Block-Off plate for non fuel injected cars
Includes mounting straps, gaskets & O-ring sealed screws
53-CGX Overall Size: 29-1/2" x 21-1/4" x 9-1/4" (18 Gallons)
53-CG Overall Size: 29-1/4" x 21-1/4" x 8-1/4" (16 Gallons)
This tank has the pickup tube located in the stock position if you are running a carburetor. It also has an internal reservoir tray and an accessory opening for use with fuel injection. It will accept our optional GPA-series Fuel Pump kits as seen in our Fuel Pump Section.
When using the 53-CG and 53-CGX tank with a GPA series pump a 3/8" NPT pipe plug will be needed to block off the internal fuel tank pickup tube.

Photos
Here are some other items you may be interested in: