In-Tank Fuel Pump Module - GPA-Series
From Tanks, Inc.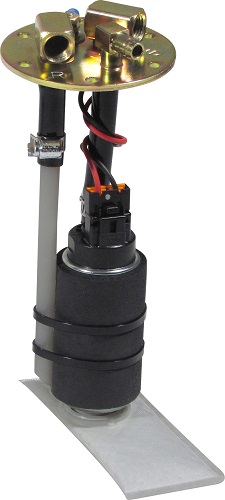 Product Details
Made in the USA
Heavy 10 gauge no-warp mounting plate
1/4" NPT Supply and Return Line
Barbed Vent Fitting
Oven brazed fittings
Up to 100 PSI
In-tank wire harness
Genuine Walbro Fuel Pumps
The GPA-Series Fuel Pump Module is designed to be used in many of our die-stamped alloy-coated and stainless steel gas tanks that have factory-installed reservoir trays. The tray is an absolute necessity for fuel-injection in order to prevent fuel starvation when accelerating and cornering.
We use Walbro high-performance pumps in all of our fuel injection modules, and we offer four different operating ranges in order to supply up to approximately 1000 horsepower. The internal wiring harness, supply line, return line, filter sock and insulator sleeve are included. (The gasket and screws with o-rings are not included with the pump because we include gaskets and screws with our tanks.)
The heavy 10-gauge no-warp mounting plate contains fittings for the supply, the return, the vent and the electrical connector. It is yellow-zinc plated to prevent corrosion.
GPA-2 or GPA-4 pumps cannot be used with Pulse Width Modulation. If using with a FiTech system be sure to turn off. For instructions

click here.
For help selecting the correct fuel pump for your application click here.
For information on using this pump assembly on a carbureted application click here.
Photos
Here are some other items you may be interested in: