1941-48 Chevy Poly Fuel Tank
From Tanks, Inc.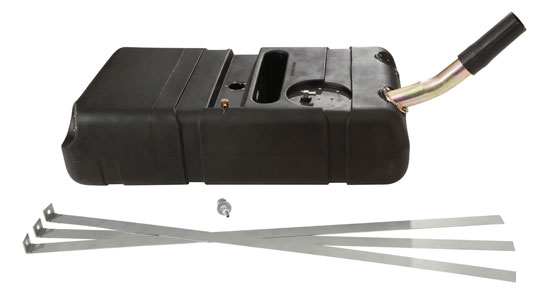 Product Details
High-Density Polyethylene - Heavy Wall Construction

Bolts Into Frame (Like Original)

Patented Baffle - Tunnel - Minimizes Fuel Sloshing

Top Mounted Pickup Tube & Vent
Remote Mount Rollover Vent Valve

Bolt-On Neck

2" ID Fuel-Proof Connecting Hose

18 Gallon Capacity - 1-7/8" Deeper than Stock

Accepts All 5-Hole Senders - VDO, SW, Classic, etc.

Mounting Straps Included

Accepts our PA Series Fuel Pump Module

Overall Size: 34-1/2" x 19" x 8-1/2"

This 18 Gallon tank is 6" longer works with Coupes with flat trunks or Sedans without spare tire wells.
Photos
Here are some other items you may be interested in: