1935-36 Ford Steel and Stainless Steel Fuel Tank
From Tanks, Inc.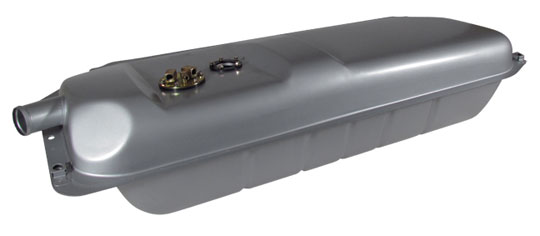 35SS

tank is Out of Stock.
Product Details
Photos
Accessories
Product Details
Fits All 35-36 Ford Passenger Cars
Die Stamped AlloySteel - For Great Rust Prevention - Tank is Painted Silver
Or Stainless Steel to Stop Rust
Fully Baffled
Top Mounted Bolt In Pickup Tube and Vent (1/4" NPT Pickup & Return)
Internal Reservoir Tray - Absolutely Necessary for Fuel Injection
16 Gallon Capacity
1½" Deeper Than Stock
Two Extra Gallons for Longer Cruising
Overall Size: 42-1/2" x 15-1/2" x 10"
Accepts All

5-Hole Senders

- VDO, SW, Classic, etc.
Optional In-Tank Fuel Pumps Available
3/8" Coarse Thread Caged Mounting Nuts
Filler Neck Connects with 2" ID Rubber Hose
Leak Tested...Twice - For Safety
This tank has a bolt in pickup tube assembly for carburated applications. It will accept our optional GPA-series Fuel Pump kits as seen in our Fuel Pump Section for EFI applications.
Photos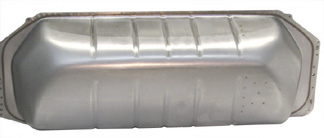 Now With Our Exclusive Ribbed Bottom
Adds strength! Looks Great! No Wrinkles!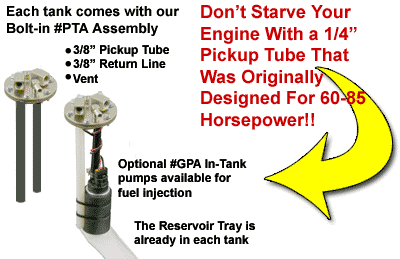 35-36 Ford Stainless Steel Gas Tank
Accessories
Here are some other items you may be interested in: